Australian Postage
A $10.50 flat rate Delivery is all you'll pay for all orders (any size) to anywhere in Australia.

Orders of $180 and above are shipped free of charge. (Australia Only)

Herbosophy despatches your order from Perth, Australia on business days only (Mon to Fri).

We use Australia Post Satchels for all National deliveries by default. All postage has tracking to confirm delivery.

Platinum Express Postage is also available as an option at checkout for $18.50. Platinum Express postage has priority delivery, tracking and requires signature to confirm delivery.

Orders for delivery within Australia are generally dispatched within 1 business day. However, please remember on public holidays dispatch may take longer as we are of course reliant on Australia Post being open.

If an item is out of stock, and remains unavailable for 48 hours, we will contact you.

International orders are dispatched after a 24 hour delay (see below), and sent via Australia Post.

Including your phone number and a valid email address helps us to contact you more quickly to sort out any issues with your order.

Please ensure your address is correct and updated if using your paypal account.

Please Note:

Herbosophy will not be held liable for packages lost through transit as we have no control over the postal service. If you prefer Platinum Express postage (requires signature at delivery) , please choose at checkout.

We will email you to advise your purchase has been posted.

We don't send the tracking number with this email as Australia Post doesn't update the delivery status on their site until the parcel is delivered. (We assume this is more for the senders benefit to confirm a package has been delivered or is awaiting collection at the local office.)

If you are not at the specified delivery address to receive the parcel, a card should be left providing pickup details from your local post office. Sometimes these cards get accidentally misplaced or are not left by the driver, so if you believe your parcel should have arrived, please contact us for your parcel's tracking number so that you can make enquiries at your post office.
Estimated Express Delivery Times within Australia from Perth (as per Australia Post guidelines).
Delivery within Perth Metropolitan Area Next working day
Delivery to regional areas in WA 1-2 working days
Delivery to other capital cities 2 - 3 working days
To other interstate locations 3 - 5 working days
* Days for delivery are business days after dispatch.
International shipments
Postage prices are based on Australia Post International Parcel pricing (see below)

Purchases sent via Registered Post should be aware Australia Post doesn't offer live tracking for this service. It's primarily to find the package if it's being held by customs or the postal service.

Regular post only available for NZ, USA, UK.


Please Note:

Herbosophy will not be held liable for packages lost through transit as we have no control over the postal service.

Herbosophy.com.au does not include customs fees, taxes and tariffs. Customers outside of the Australia may be subject to customs fees and/or import duties and taxes, which are levied once a shipment reaches your country. You, the customer are solely responsible for any additional customs clearance fees; we have no control over these charges and cannot predict what they may be.

The purchaser should inform themselves of any customs or import restrictions that may apply to products they wish to purchase. Herbosophy.com.au cannot be held liable for any holding or seizure of goods by customs in the country of destination.

All International orders incur $2 handling charge.

Please note the benefit of taking advantage of the weight scales. Eg, Shipping cost is the same for 1 or 10 bottles if it's under 1000gms.

International Shipping Charges -

(Australia Post schedule April 2013)


International Airmail Zones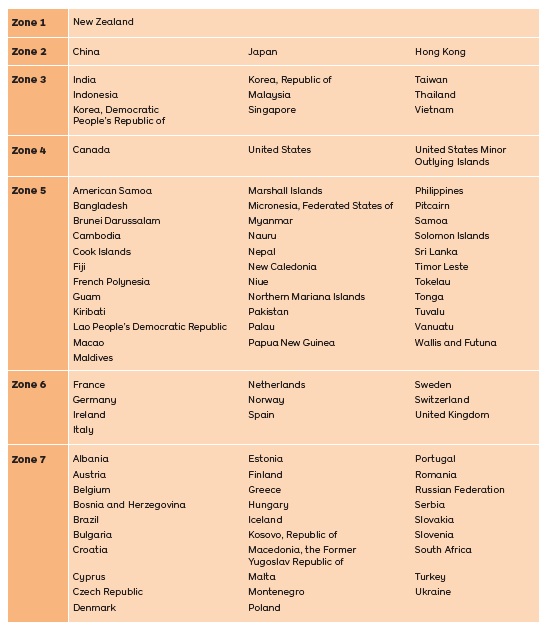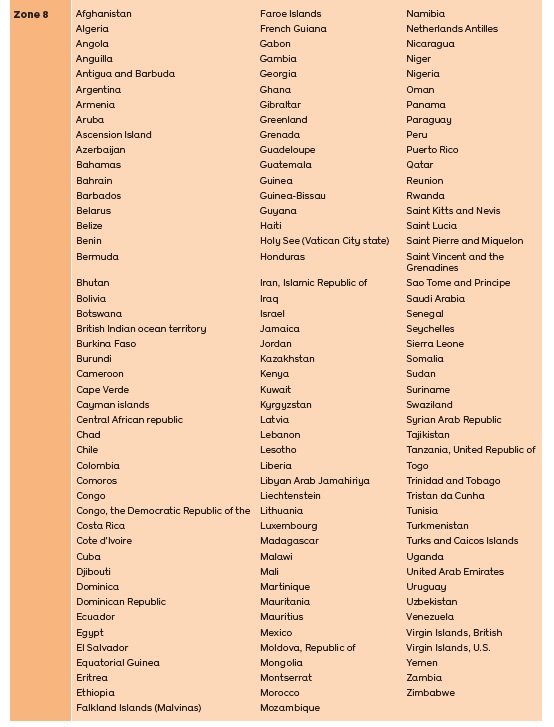 Delivery Timeframes*
Estimated Delivery Times - International (as per Australia Post guidelines).
New Zealand 3-7 days
Pacific Island 5-10 days
Asia 5-10 days
Middle East 5-12 days
Europe 5-10 days
Africa 7- 14 days
USA/Canada 4-14 days
South America 7-18 days
* Days for delivery are business days after dispatch.
---
Returns Policy

We provide store credit or exchanges within 5 days of receiving items.
You are welcome to choose between a store credit or exchange where:
The incorrect item(s) are delivered (provided the item(s) have not been opened or tampered with)
An item is damaged
quality is substandard

No refund or exchange will be given for:

Change of mind
Products that have been open or tampered with
Incorrect orders made by the recipient
International Orders

Herbosophy is generally unable to offer refunds due to the nature of our service– you will appreciate that neither you nor other customers would wish to receive products that have not been freshly prepared for them as that would be the reason to purchase from us, thus understandibly we cannot resell returned goods. However, where a product is damaged in transit, or incorrectly sent, we will always replace it.
We strive for the best service possible, we want you to return afterall :)